Hello Everyone,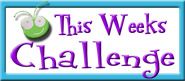 #99 – Fancy Trims
Use fabric, lace or other trims on your project
I started this 5 1/4" square card out with a base of white cs (you can hardly see this in the picture). Then the next layer is cut 5 1/8" square in black cs. The next layer is a 5" square I printed and cut with my imagine. The cartridge is the black and white by Teresa Collins (love this cart). I just used hot pink paper instead of white. The next layer is a scalloped square cut at 4 1/2" found on the Elegant Edges Cartridge. The pink cs is cut at 4 1/4". The girl is cut at 3 1/2" and is from the Forever Young Cartridge. The banners along with the sentiment piece of cs are 1 1/4" wide, each are shadowed with black cs. The sentiment is from Classy & Fabulous a MCT Stamp. I used pop ups on the scallop square, girl, banners, and sentiment. I added buttons, sheer ribbon, and a gemstone along with some distressing.
For the inside of the card I did something very easy I just wanted to cut down the white space on the inside. It is hard to fill it up on a 5 1/4" square card and it looks to plain if I don't add something.